8 Free Resources to Scale & Grow Your Small Business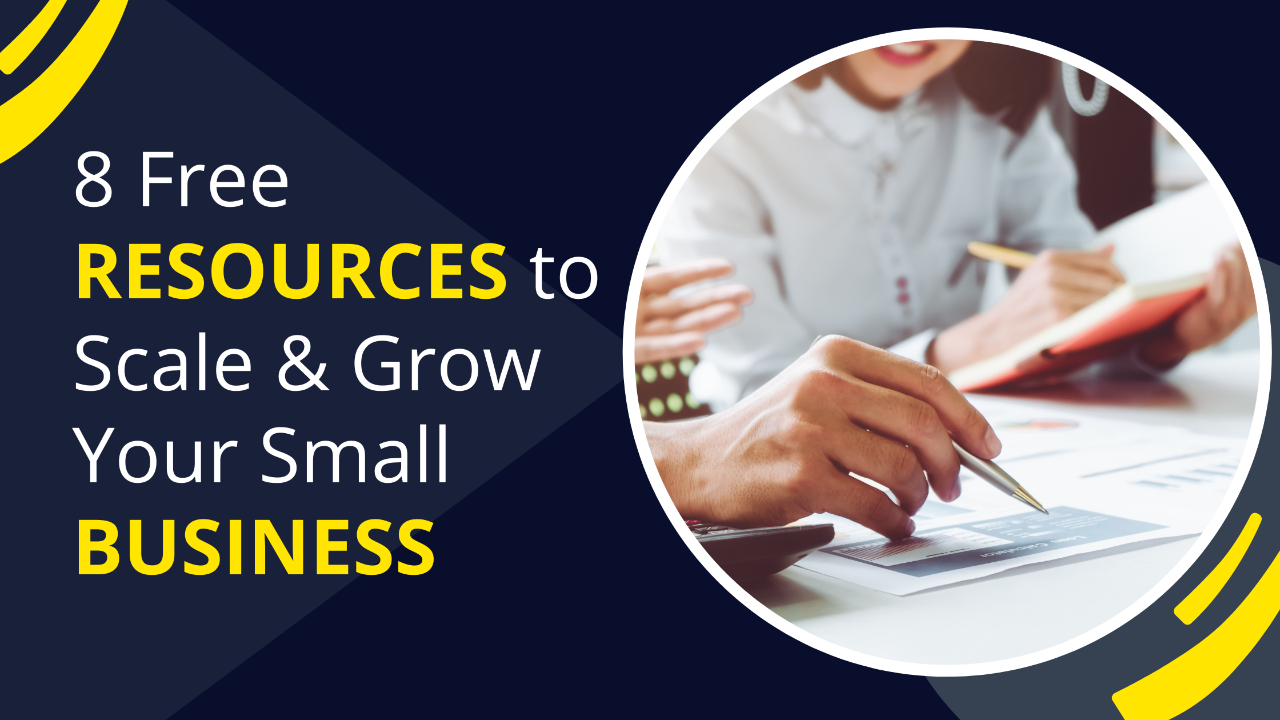 Funding may be our favorite F word, but FREE comes in at a pretty close second.
When you're operating a small business, every penny counts - especially if you have razor-thin margins. This can make it a challenge to scale and grow your business if you don't have extra funds sitting around to hire experts or purchase fancy equipment or software.
The good news is that there are plenty of absolutely 100% free programs and resources that can help you achieve your goals without spending one solitary cent. And as an added bonus, many of them will also save you time. (And we all know time is money, so win-win.)
Here are eight free resources you can use to help manage and scale your small business.


Calendly
A personal favorite of ours, Calendly is one of the best online scheduling tools out there by eliminating the hassle of back-and-forth emails when trying to get an appointment on the books. Its user-friendly hub is a breeze to set up and can be customized for your availability preferences, meeting type, and questionnaire forms. Plus, it integrates with your favorite calendars and tools, and you can embed it into your website for streamlined scheduling. Perfect for people in sales, marketing, recruitment, IT, and more.
Avast
If ANY part of your business operates on the World Wide Web (think website, banking, etc.), your data is vulnerable to scammers and hackers. Avast is an award-winning free virus protection program you can download with just a click to your PC, Mac, Android, or iPhone. It safeguards your home network, has six layers of security, stops ransomware threats, and blocks distractions and interruptions, all without slowing down your device. Learn more here.
Slack
Collaboration in the time of Covid prompted many businesses to find a solution to the challenge of working together as a team when not physically sharing the same space. One of the most popular platforms to rise from the ashes, so to speak, is Slack. It works for all types of companies and industries to connect with different members of your teams by sharing files, sending audio and video clips, and having real-time communication via chat or a live huddle. Learn more here.
Coursera
Any business owner or entrepreneur worth their salt knows that the quest for knowledge is a never-ending journey. But you don't need to shell out big bucks or enroll in an accredited program in pursuit of education. Coursera has an impressive number of entirely free courses on topics ranging from financial markets, statistics, psychology, brand management, negotiation strategies, venture capital, and more. Learn more here.
DocuSign
Fax machines - and even printers - are slowly going the way of the dinosaurs, making collecting signatures a bit of a challenge. Bypass this roadblock by sending your documents via DocuSign. It's super simple to use and lets you collect necessary signatures anytime, anyplace. The free edition allows you to sign as many documents as you want and keeps everything secure in cloud storage for easy access. Learn more here.
Canva
If you need simple graphics and don't have the money to hire a professional, Canva's free version might just be your new best friend. With plenty of pre-designed templates to select from, you can create social media posts, flyers, logos, and more with just a few clicks of the mouse. You get more features to play around with as part of the paid version, but the free plan has everything you need for basic designs. Learn more here.
Bplans
Do you need help writing your business plan? Bplans has over 500 real-world examples from a variety of industries that can help guide you through the process. Select from categories like "Accounting, Insurance & Compliance," "Children & Pets," or "Entertainment & Recreation" - all completely free. Learn more here.
Wave
Touted as one-stop money management for small business owners, Wave software helps you to invoice clients, track expenses and income, and simplify your receipts come tax season. You can also accept payments on a pay-per-use basis and process payroll for a monthly fee. With free unlimited bank and credit card connections and access to helpful reports like Overdue Invoices & Bills and Profit & Loss, Wave can be a useful tool to have in your small business arsenal. Learn more here.